7 Keys To Running Leak Free Guide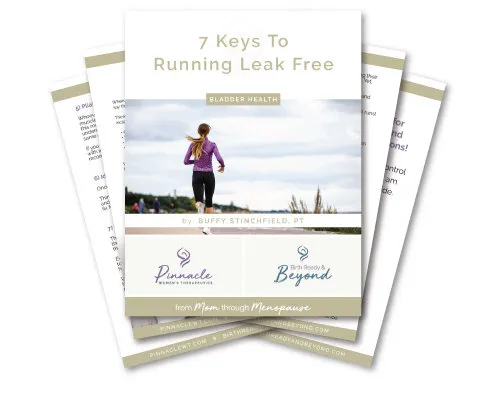 30-80% of ALL high school and college female athletes leak urine during their sport. Bladder leakage with sport and running is INCREDIBLY COMMON. Yet, we are not talking about it nearly enough.
The causes are varied, but it usually comes down to muscle imbalances and issues with form during activity that leads to leakage.
Download my guide with the 7 Keys to see if you can leak-proof your next and future runs!
"Buffy is a leader in her field, passionate about the work, a consummate professional, and most importantly, she is incredibly empathic. I was nervous, emotional and very hesitant about my first visit, but Buffy put me at ease immediately, and throughout the appointment."
*We don't appreciate unwanted spam and are certain you don't either! Our team at Pinnacle Therapeutics respects that!! By opting in, we hereby acknowledge your interest in the free download and our gift of once-weekly emails, intentionally sharing free clinical and lifestyle hacks designed to help busy women live with more energy, clarity, and self-confidence through heightened pelvic health understanding, as well as insight into our favorite women's health-related products and self-care services. We look forward to your place in our support community and are excited to deliver immense value to the quality of your precious spare time.