Sign-Up For Yoga, Core, & Pelvic Floor Online Class

The Foundations of a Healthy Core & Pelvic Floor Online
Learn what us women SHOULD have learned LONG AGO, but DIDN'T!
Have you been struggling with a pelvic health condition like leaky bladder, abdominal separation, or pelvic heaviness and felt like the advice to do kegels, get surgery, or to just live with it was all you have heard?
Or are you a fitness or health provider that is looking for simplified information to better help your clients with their pelvic health?
Pelvic health conditions are so incredibly common (as in 30-50% of ALL women), but the expertise in healthcare on these issues is seriously lacking and is hard to find. Despite how common issues like bladder leakage and pelvic pain are, women are often left feeling alone and ashamed of the issue because NO ONE talks about it!
These issues are usually from musculoskeletal imbalances that can be corrected conservatively with the help of pelvic physical therapists. And this is AWESOME!
However, many many women are told that they just have to live with their issue and they go on accepting this LIE.
Pelvic floor dysfunction can have serious effects on our quality of life, does not often resolve on its own, and is the NUMBER ONE reason that women are admitted to skilled nursing facilities in their older years.
Yet women are continually told to IGNORE the symptoms as just a normal occurrence after babies or older age.
And MANY women STOP LIVING their BEST LIFE on account of not wanting to pee themselves or not wanting to venture too far away from a bathroom. Or they stop their sex life completely due to discomfort or pain when it could be resolved with proper care.
When it comes to core & pelvic health conditions, us women usually process these conditions with a high level of SHAME and often feel ALONE.
Ironically, we are definitely NOT ALONE.
After suffering silently with pelvic pain for over 6 years and then having a pelvic floor injury with the birth of my first baby, I KNEW I needed to find answers to helping myself and began my journey to becoming a pelvic specialist in 2010.
I have now been practicing pelvic floor physical therapy ever since and have come to be a champion for women that have been suffering as I did. I have grown in my passion for empowering women with knowledge of their own pelvic and core system in an easy to understand way.

"Buffy is a leader in her field, passionate about the work, a consummate professional, and most importantly, she is incredibly empathic. I was nervous, emotional and very hesitant about my first visit, but Buffy put me at ease immediately, and throughout the appointment."

After helping countless women for the last almost 10 years specifically with their core and pelvic health, I would like to share with YOU what I have found are the KEY components that we ALL need to know and understand as women: 
HOW our core muscle system works

The main components of what makes for a healthy core, pelvic floor, and body

How we can use this knowledge to even resolve BACK PAIN

How we can better understand our body's cues and modify exercises to SERVE us instead of potentially HURT us

HOW to get MORE out of our fitness classes and routines with knowing how to engage the RIGHT MUSCLES and maximize our time spent exercising

UNDERSTAND what PELVIC SAFE exercise IS and how to be sure that we are NOT putting our pelvic health at risk with exercises.

Understand WHY KEGELS may NOT be in our best interest and when they ARE

And finally, learn how NOT ALONE us women are and why it is SO IMPORTANT that we speak up and share our knowledge and experience with others to STOP the cycle of women feeling ALONE, feeling SHAME, and NOT KNOWING that there is HELP.

"I feel so confident in Buffy, that even though my insurance will cover me 100% somewhere else, I gladly pay out of pocket to see her because there is no one else I would trust as much as her to help me recover." 

Yoga, Core, & Pelvic Floor Online Class
The live class that continues to SELL OUT… EVERY. SINGLE. TIME.
In this 53 minute online digital version of my most popular class, you will get to come along with me as I give a live class and learn what us women SHOULD have learned LONG AGO, but DIDN'T.
I will also be including a PDF download of the yoga poses that we use that are helpful for our core and pelvic floor health and the ones that may need to be modified or omitted from our fitness routines based on our personal core health.
Often, individuals are shown some "magical" exercises and promised a CURE, without also including the basics of WHY an exercise may be good for US individually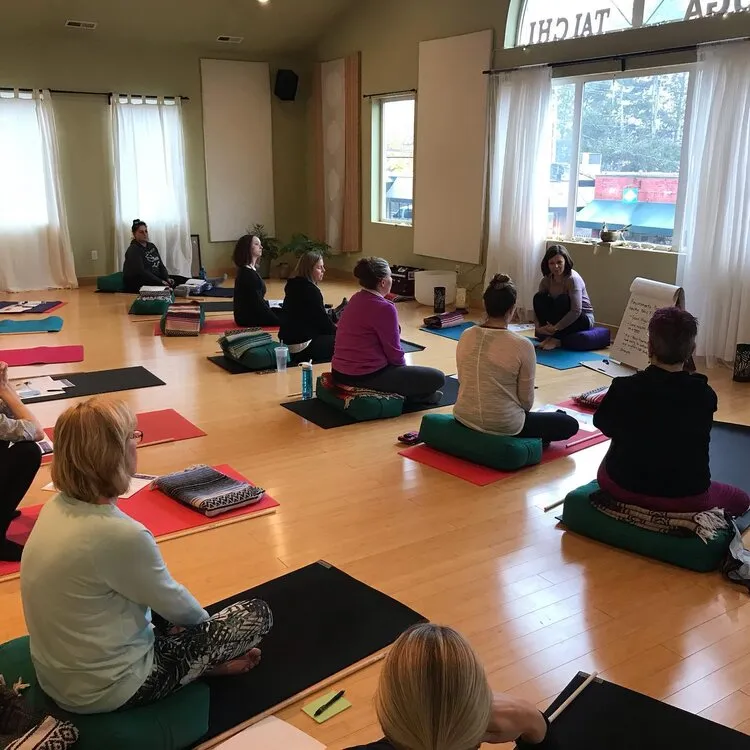 THIS IS NOT THAT COURSE!
Also, there is NO ONE SIZE FITS ALL approach to resolving our core and pelvic floor issues.
We are ALL UNIQUE, and this class is designed to help us understand the basics of what makes our core and pelvic floor team function optimally. We also touch on the various issues that women may have and discuss why some exercises may NOT be appropriate for us.
After watching this class, you will be a MUCH better consumer of health and fitness offerings both in your community and online because you will likely know MORE than your fitness and health providers and be able to know for yourself, what may serve your body or not and when you may need expert help.
What class attendees are saying:

"Loved the class!"


"The class was great! I thought you did a great job of finding the most important basics and covering a lot of info simply and in an organized way!"


"Class was excellent – good info. Makes me sad that women still feel reluctance to address these problems… but glad you have sought the training in this needed field!"

What do you get with this online class?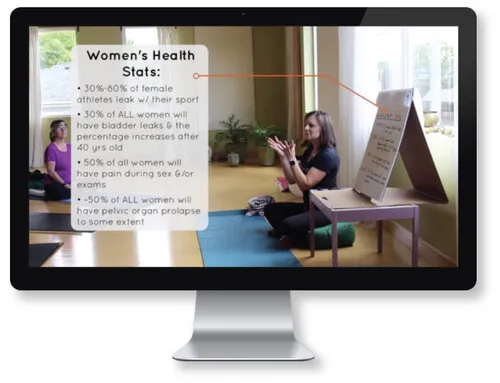 The Recorded LIVE Online Class ($75 Value)
Watch along with me as I give a live class and learn what us women SHOULD have learned LONG AGO, but DIDN'T.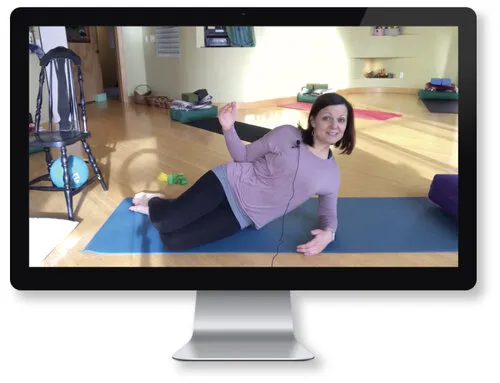 Step-By-Step Exercises ($50 Value)
33 Minutes
By popular demand, I have added a new video of JUST the exercises that are featured in the digital version of the online class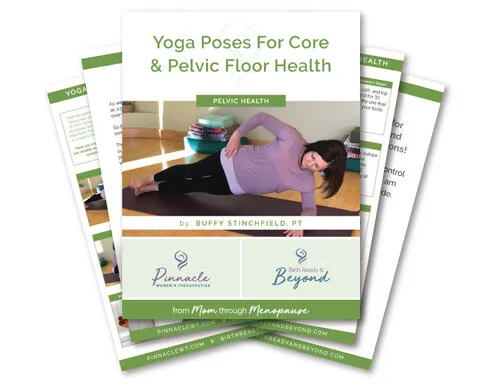 Yoga Poses PDF ($20 Value)
Download of the yoga poses with pictures and instructions of the poses that can help you to reconnect with your core and pelvic floor as well as the other essential components to a healthy core, pelvic floor, and spine.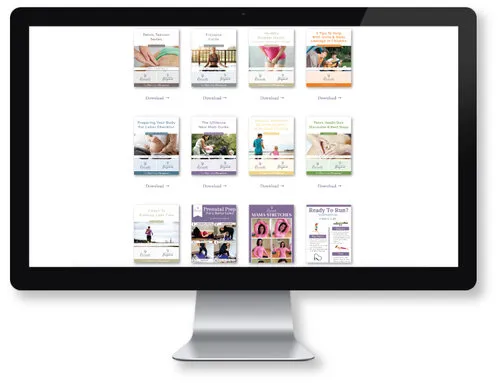 BONUS: Ultimate Resources Vault ($80 Value)
Your private login to this page contains access to my complete library of digital resources, including checklists, guides, exercises, and more! All resources are available for INSTANT DOWNLOAD!
What's in the Resources Vault?
Free guides for the 6 main pillars of my pelvic health practice including:
Healthy Bladder Guide

Prolapse Guide

Prenatal Preparation Exercises for a Successful Vaginal Birth

Preparing Your Body For Labor Checklist

The Ultimate Postpartum Guide

Pelvic Tension/Pain Exercises Guide

Seed Cycling Guide for Hormone Balance

7 Keys to Running Leak Free

Pelvic Health Quiz Guide and Next Steps
I SHOULD be charging at least $80 for the information in the Vault, but I'm GIVING it to you for FREE.
It has taken me 3 YEARS to curate this information in an easy to understand and simplified form that is ACTIONABLE and gives you the guidance that you NEED for these specific pelvic health areas and conditions.
So many people have been reaching out about wishing they lived in the area to take the live class or had the ability to make it to the class with their schedule, so I am happy to offer it to you now. No more obstacles of scheduling or location logistics!
I have invested the last 16 years of my life, a ton of money, and 13 years in practice to hone the skills and knowledge to help women on their health journey.
What I have learned through this journey is that this information HAS to be shared.
Too many women are wasting YEARS of their life SUFFERING for NO REASON when there is HELP. They have been offered pills, surgery, or given useless advice like "this is normal after babies" or "have a glass of wine" for painful sex.
I would love nothing more than to help YOU on your journey to unlock the awareness of how to THRIVE in your body and NOT SETTLE for chronic pain, discomfort, shame, or inconvenience.
How much is this online class?
The Recorded LIVE Online Class:
$75
• Step-By-Step Exercises:
$50
• Yoga Poses PDF:
$20
• BONUS: Ultimate Resources Vault:
$80
TOTAL VALUE =
$225
As this class continues to evolve with new features, the price will only go up!
Some have asked me:
"What if I'm not in great enough shape to do this class? Will it be too intense for me?"
• NO! This class is primarily education and full of very gentle exercises and postures.
• This is NOT an advanced course.
• It is a FOUNDATIONAL course.
• If there is a pose you are not sure of, no worries! No need to do it. But there is still something to be learned about each concept we discuss in the class.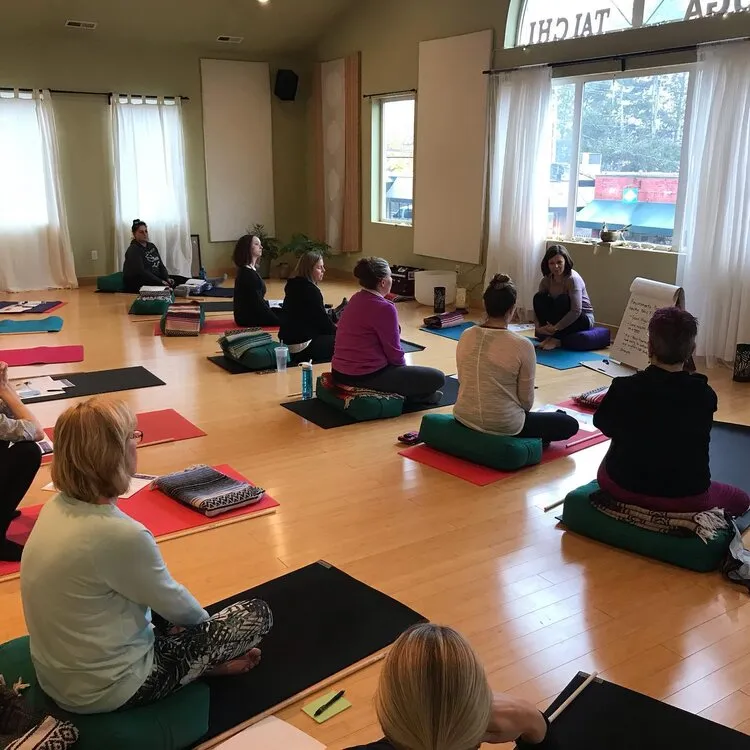 Are you ready to get your hands on the online class and all of the resources?