Yoga, Core, & Pelvic Floor Exercise Bonus
Have you been struggling with a pelvic health condition
like leaky bladder, abdominal separation, pelvic pain, or pelvic heaviness and felt like the advice to do kegels, get surgery, or to just live with it was all you have heard?
OR…
Or are you a fitness or health provider that is looking for simplified information to better help your clients with their pelvic health?
For a limited time, I am offering the exercise video portion of my online class for a fraction of the price of the full course.

Pelvic health conditions are so incredibly common (as in 30-50% of ALL women), but the expertise in healthcare on these issues is seriously lacking and is hard to find. Despite how common issues like bladder leakage and pelvic pain are, women are often left feeling alone and ashamed of the issue because NO ONE talks about it!
These issues are usually from musculoskeletal imbalances that can be corrected conservatively with the help of pelvic physical therapists. And this is AWESOME!
However, many many women are told that they just have to live with their issue and they go on accepting this LIE.
And MANY women STOP LIVING their BEST LIFE on account of not wanting to pee themselves or not wanting to venture too far away from a bathroom. Or they stop their sex life completely due to discomfort or pain when it could be resolved with proper care.
As a past sufferer of pelvic floor issues, I decided to specialize in pelvic health in 2010. I have found that there are 4 main pillars of pelvic floor health that I address in my digital class.
????
Get Instant Access TODAY!!
When I ask what people want MOST, they continue to share that they would like exercise videos that they can do at home. So that is EXACTLY what I am sharing with you here!
The Yoga, Core, & Pelvic Floor Bonus Exercise Video
33 Minutes of Step-By-Step Exercises ($50 Value)
In this video I will teach:
What simple pieces of equipment you can use at home

Proper breathing techniques to connect your entire core muscle team

How to combine your breath with simple core exercises the right way

The 4 pillars of a healthy core and pelvic floor
These exercises are gentle and low impact with a primary focus on connecting with your deep core muscles. This can be a great start towards understanding your core and dramatically improving your core and pelvic health.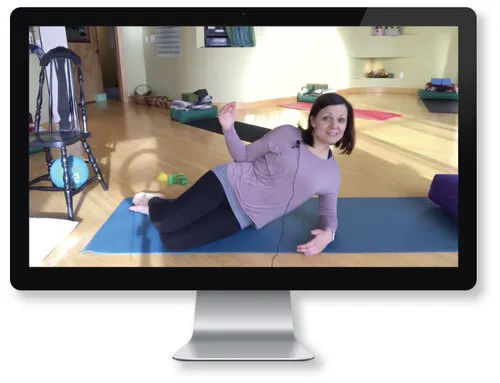 ????
Get the bonus exercise video for only
 

$50

 

$12.
In just 33 minutes, I take you through the foundational exercises that I teach about in my digital class.
Too many women are wasting YEARS of their life SUFFERING for NO REASON when there is HELP. They have been offered pills, surgery, or given useless advice like "this is normal after babies".
This video is part of my digital class that sells for $69.95, but I am offering it to YOU on it's own so you can get started NOW.
This exercise video is meant to be done in your home with little space needed and very little equipment.
Commonly asked questions:
Is this class safe if I have a pelvic organ prolapse?
Yes. It was designed to be a basic course, teaching the foundations of pelvic and core health and does NOT put excessive pressure on the pelvic floor. Of course, this is educational content and NOT meant to replace medical advice from your doctor and pelvic physical therapist.
Can I purchase the digital class AFTER I purchase the exercise ONLY video?
Yes. You will be able to purchase the FULL digital course (and all of the bonus content that comes with it) and the cost of this exercise video will be applied to the purchase price.
Can I do this exercise video while seeing a pelvic PT?
Of course! Share with them that you are doing some basic core and pelvic floor exercises and what they are so that they can be sure to account for these exercises when curating your home program. They may have some modification recommendations based on your individual needs.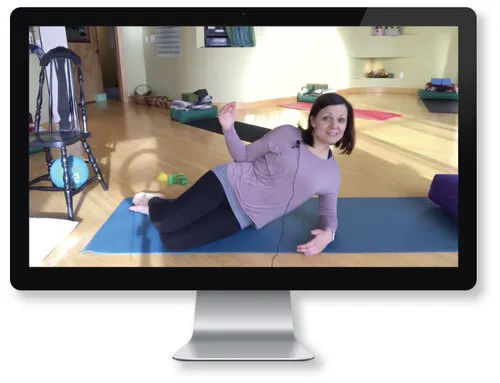 Are you ready to add a healthy dose of movement to your routine and start improving your connection with your core and pelvic floor muscles?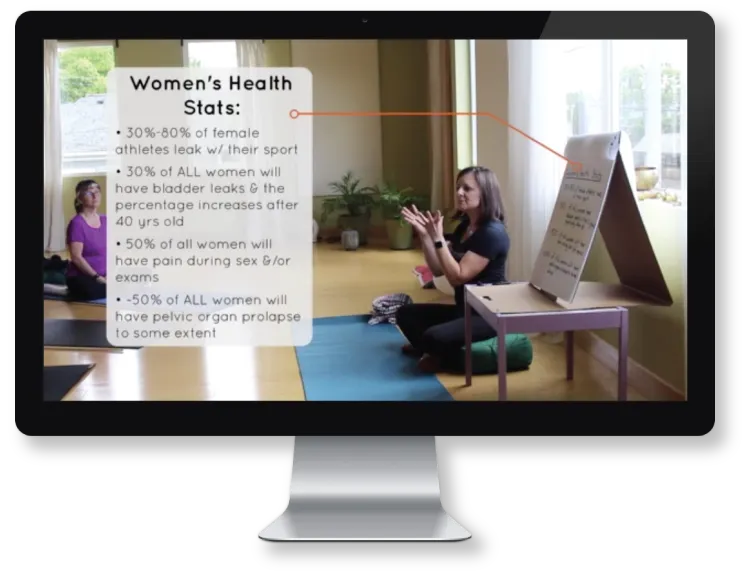 Want to check out the FULL online class that also INCLUDES these exercises?
I teach you the foundations of a healthy core & pelvic floor! Learn what us women SHOULD have learned LONG AGO, but DIDN'T!