With all that we have all been through in the last year and a half, it's never been more necessary for us all to hunker down and focus on the BASICS of our health. The things that money and drugs cannot buy.
We call these things the main pillars of health.
As we prepare for the fall season, now is a great time to get our heads on straight and up our health game. In addition to these 7 pillars, I know that I have personally worked with naturopaths to confirm what supplements I and my family should be taking regularly as well as what to have on hand in case someone catches a cold or flu.
I strongly recommend finding your local naturopath or functional medicine provider to get guidance on this as well.
We would love to give you this FREE download of the 7 pillars of pelvic health. As educational resources go, give this list a glance, and perhaps it will help you to focus on one of the pillars that you may not be great at or are struggling with.
EVERY small step towards better health helps!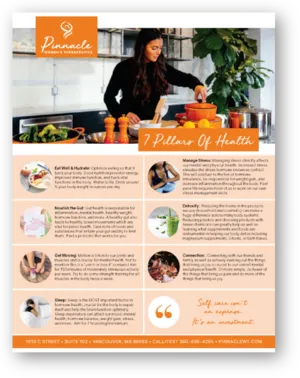 Need help scheduling your visit(s) with Pinnacle? Contact us if you have questions or would like to work with us.