As a working/business owning mom of now 3 kiddos and co-op homeschooler, I am being forced to reassess just how to take care of myself and WHERE to find that time to do so.  Like most moms in the world, I find myself wanting it all.  The happy family, the clean house, the quality time spent with kids and spouse, being able to focus on their growth and education, having a great marriage… and oh yah, a healthy me!
As more and more has come into our and my life, gone are the days of ample time to do things like exercise, healthy meal plan, down time to be by myself and ponder, meditate.  All of these things, however, are essential to being our best.
And I am pretty sure I am not alone in this dilemma.  In fact, I have been hearing patients talk about their struggles to do their home exercise plans prescribed by me for the ailments they have come to see me for for over a decade!  So I have a feeling that my story is MANY MOMs' stories.  Where is the time for US?
Well, some of the most successful people on the planet have often spoken or written the same truth. WE ALL HAVE 24 HOURS IN A DAY.  No one gets any extra.
And while everyone's circumstances are different, I cannot profess to know where that self care time can be found in your day.   What I CAN DO, is give you some inspiration.  So here are my top 5 tips for making time for YOU.
1) KEEP IT SIMPLE: Do NOT overthink things.  Ever heard of analysis paralysis?
2) MAKE A PLAN: (and include your significant other in the plan so that they can support you)  Want to go to the gym a few days in the morning?  Tell your spouse so that they can be mentally prepared to help with kids, hold you accountable or help you wake up.
3) PUT IT IN WRITING: write down your schedule for the week, or better yet, write a very specific hourly schedule for the day including your health plans the night before you go to bed.  Your subconscious mind can help you with motivation while you sleep and help you wake up when you want to wake up to make your plans a reality.
4) ACCOUNTABILITY: initiate challenges with your friends or family or join a challenge with friends through Facebook or other social media. Schedule time with a friend regularly to meet to exercise (we wouldn't want to hit the snooze button and stiff our friend would we?)
5) MULTITASK: while mindfulness and being in the moment is important, there are times when multitasking is perfect. Plus, isn't the definition of being a mom to multitask?  There are some activities that will be a constant in our day to day lives that we can always go about a little different to nourish our bodies with good strength or flexibility building movement.
One such time that can be a self care time, is while driving in your car.  It could be while in the passenger seat or at red lights while in the driver's seat.  Perhaps during a long straight, boring stretch of road.  Below is a few ideas of what you can do in the car.  Not all of these exercises are appropriate for everyone.  You will see that the famous Kegel or pelvic floor contraction is on this list.  However, do know that this exercise is actually not appropriate for all of my patients.  Take the list for what it is.  Ideas and inspiration!  You can download the list by clicking HERE or the image.  Perhaps place the list in your car for a reminder or use it for inspiration to come up with your own list.  One clever idea a patient told me about was putting a red dot sticker on her dash board to reminder her to do an exercise in the car.  Whatever it takes!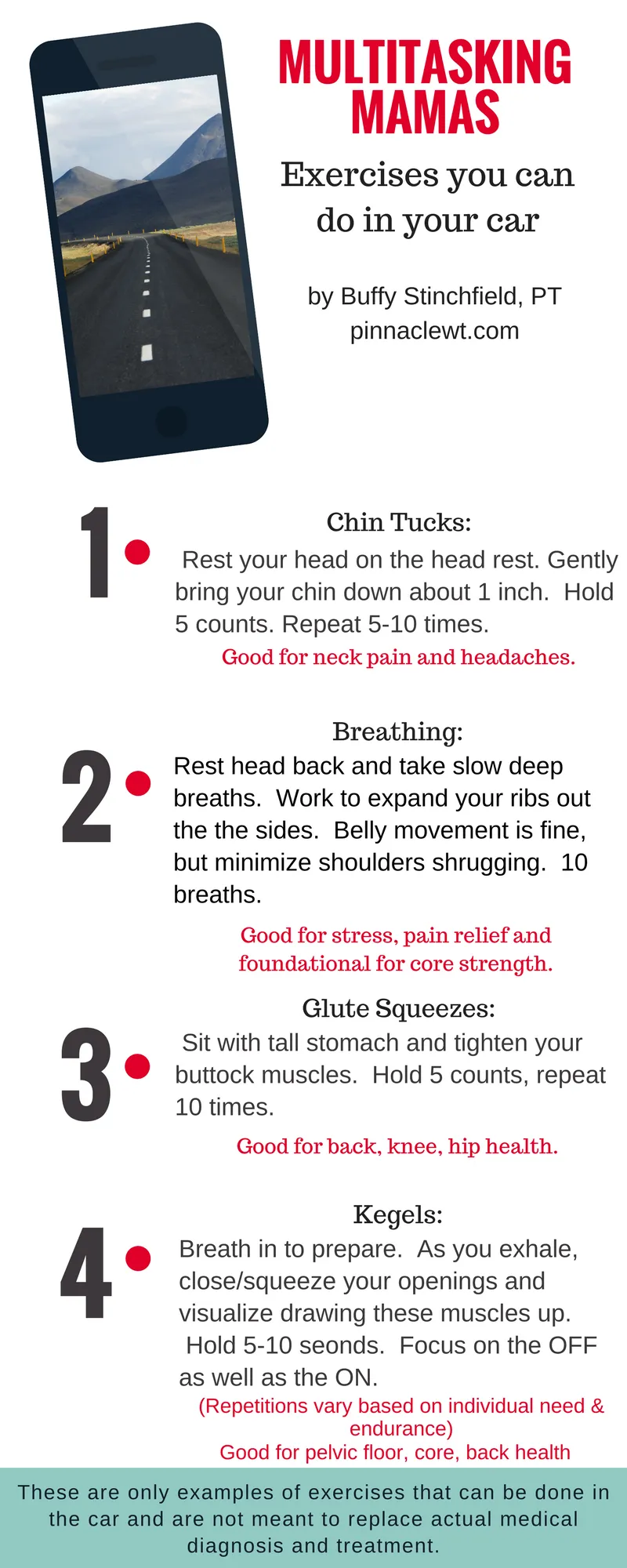 So to my fellow mamas and everyone that struggles to find time to care for themselves in this busy life, YOU CAN DO IT! You CAN find the time because YOU ARE IMPORTANT and WORTHY of health, happiness and participating in the activities you love without pain or issues that would keep you out of them.
Strategizing with my patients is something I do regularly.  We all have barriers to success.  We just need to tackle them head on and keep moving forward anyway.